In the Owens Valley smoke continues to obscure mountain ranges and leave a smokey smell in the air. In fact, Air Pollution Control District Director Ted Schade said he has received a number of calls about the smoke. He said the Sheep Fire in Sequoia has caused our localized smokey skies.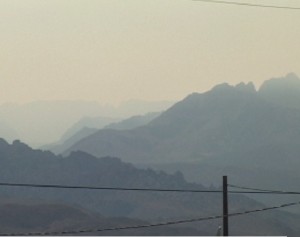 In fact, news from the Sequoia & Kings Canyon National Parks says that the Sheep Fire, started by lightning in mid-July, burns opposite the Owens Valley on the other side of the Sierra, mostly in Kings Canyon National Park. It has reached nearly 4400 acres.
The Sheep fire continues to burn to the West. It reached the valley floor west of Cedar Grove before Labor Day. Warmer temperatures and lower relative humidities in the past week have increased fire activity with longer burning periods. There are no threats to life or property. Deb Schweizer of the Park Service said that firefighters are holding the fire south of the Kings River.
The Park Service said that the Sheep Fire is burning in an area that has missed natural fires for more than 100 years. The major snow pack and mild summer has led to fire with heavy fuel accumulation. Fires in later years should be less severe and smaller in size. For almost two months now, that fire has generated smoke that blows over the Sierra into the Owens Valley – usually in the afternoon and evening.
APCD Director Schade said he emailed the park service to let them know that the fire put a damper on a big holiday in the Eastern Sierra where visitors come up to see clear skies and beautiful mountains.
Schweizer underscored that the fire has moved into steep terrain where firefighting is basically impossible. Again, she said the fire is doing "wonders" for the condition of the forest.