No impact yet on the inmate camp or Cal Fire from the State budget crisis.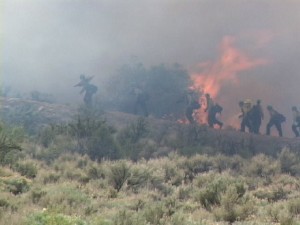 Lt. M.V. Kellner, Conservation Camp Commander, said that the two day per month furloughs will apply to camp workers. Lt. Kellner thought the worst case scenario might be a reduced crew strength by 1 or 2. He said that if officials decide to release prisoners from state facilities, that might impact the local inmate camp.
Kellner pointed out that 65% to 70% of CalFire crews are made up of inmates. As for CalFire, Chief Roger Thompson said that his crews also have only been impacted by the required two day per month furloughs.
Thompson said that the Bishop Station will remain open year round. The Independence Fire Station, however, has been closed until next spring or summer. Thompson said the highest percentage of fires are in the Bishop and Big Pine area. He said with more activity on the Lower Owens River, that could change.
At last report, there were no hiring freezes at these two facilities.