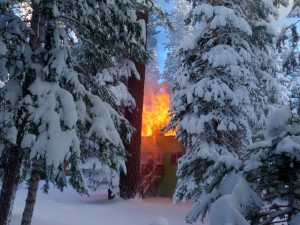 Mammoth Fire, Mammoth Police Dept., and Mono County Paramedics responded to an early morning structure fire at 14 Vacation Place in Mammoth Lakes. First arriving fire units found the second floor, of an approximately 1800 sq. ft. house, fully involved. Neighbors reported that no one was at home. Fire crews quickly extinguished the fire, but the second floor was completely destroyed. Mammoth Fire responded with two engines companies, two truck companies and two command officers, a total of 24 firefighters. There were no injuries.
There was substantial destruction to the second floor which made determining the cause of the fire difficult. It appears that the fire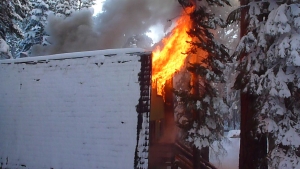 started in the area of an electric wall heater which spread throughout the upstairs bedroom. No one had been in the house for several days.
For further information contact Chief Brent Harper.