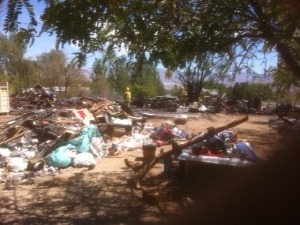 Total destruction – that was the result of a fire in Big Pine where officials say Harold Pierce lived.
Big Pine Fire Chief John Marzano said that it was reported Pierce was doing some welding on his property which caused nearby trash to catch on fire. Everything on the property burned, including a trailer.
No one was hurt in the fire that left everything on the property in southeast Big Pine a pile of burned rubble.  At the end of March another home on the same property had also burned down.
Responding to the fire were Big Pine Volunteer Fire Department, CalFire, the Inyo Sheriff's Department and others.