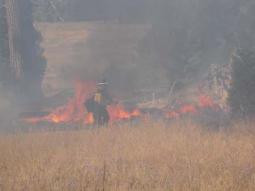 With high water warnings this spring, officials now ask people to be mindful of fire danger. With high winds and warm temperatures on the weather menu today, the National Weather Service has issued a red flag fire weather alert for Inyo County.
According to the National Weather Service, a red flag warning indicates critical fire weather conditions with low humidity, strong winds, and warm temperatures that can lead to extreme fire growth potential.
Inyo County Sheriff Bill Lutze told the Inyo Supervisors Tuesday that the predicted winds would increase fire danger. Sheriff Lutze asked residents to be vigilant to prevent fires. He was especially concerned with fireworks since the Fourth of July is right around the corner. Sheriff Lutze asked residents to call the Sheriffs Department when they see illegal use of fireworks.
Nancy Upham with the Forest Service says that people know what wind can do to any fire, whether its sparked by a cigarette or a campfire. She says that it just takes one careless moment when the wind is blowing for a wild fire to get very big very fast.
Once summer starts to heat up fire is a big concern across the Eastern Sierra and the entire West, a reminder to cautious with fire and ignition sources can carry on beyond the red flag warning that is expected to expire tonight.