From Caltrans
FOR IMMEDIATE RELEASE                                                       
UPDATE
US-395 CLOSED
FROM SR-108 TO COLEVILLE
BRIDGEPORT — The California Department of Transportation (Caltrans) would like to inform the traveling public that US-395 has closed from the north end of the town of Bridgeport, to the south end of Coleville, and at the junction of US-395 and State Route 108 due to a wildfire. There is no estimated time of reopening.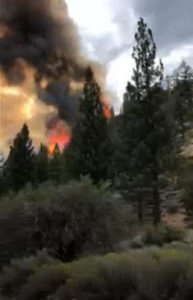 The closure has changed to a soft closure at the north end of Bridgeport to allow traffic to continue north to State Route 108, and State Route 108 eastbound traffic will be allowed southbound on US-395. There is still a hard closure for southbound traffic at Eastside Lane, south of Coleville.
The traveling public is advised to avoid the area and use alternate routes.
#
For the latest highway information please visit the Caltrans QuickMap site at quickmap.dot.ca.gov or call the Road Condition Hotline at 1-800-427-ROAD (7623).