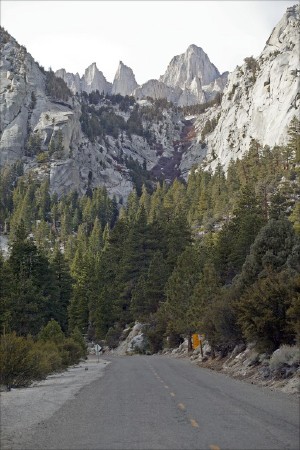 UPDATE, WEDNESDAY AT 7 A.M.
Inyo County Sheriff's Office is reporting that Whitney Portal Road re-opened Wednesdayat 7 a.m., and all campgrounds have also re-opened.
At 11:00pm Tuesday night, the Inyo County Sheriff's Department evacuated the entire Whitney Portal area, including all campgrounds. Fire had rapidly broken out on the ground and spread to the trees. Sheriff Bill Lutze said that the fire topped through the trees and burned about a half acre in early reports.
Sheriff Lutze estimated that about 100 to 150 people in the campgrounds were evacuated to Lone Pine. Inyo Health and Human Services worked to set up a shelter at Statham Hall. Sheriff's deputies conducted sweeps of all the campgrounds to make sure everyone was out of the area.
It was not immediately known how the fire started. It did spread rapidly, and Lone Pine Fire Department volunteers worked well into the night to knock it down. Fortunately the air temperature was relatively cool and there was no wind.