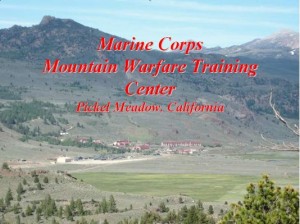 (Update Tuesday 3pm)
According to Marine spokesmen, a total of 38 families were displaced from the military housing after a propane gas explosion killed a Marine's wife and critically burned two other people.
As of Sunday, 20 families had returned, according to Marine Captain Nicholas Mannweiler.  The explosion, he said, destroyed one house at the center of the blast but left 11 uninhabitable.  Manweiller said that there are 11 vacant homes that the displaced families can now use.
The woman killed in the explosion was Lori Hardin of Hudson, Iowa, 31, and wife of Gunnery Sergeant Greg G. Hardin. Two other blast victims, a Navy corpsman and his wife, were flown to hospitals with serious injuries and third-degree burns.  The corpsman was released from Renown Hospital in Reno.  His wife remained in critical condition at UC Davis Medical Center with an improving condition, according to Captain Mannweiler.
Officials said the explosion was related to the housing area's propane distribution system and not with activities at the Marine base.  Captain Mannweiler said that inspectors have tested the propane distribution system house by house for leaks.
(The following is a press release from the Mono County Sheriff's Office)
On Friday February 3, 2012 at approximately 8:53 p.m. the Mono County Sheriff's Dispatch received numerous 911 calls regarding an explosion and a residential structure that was on fire at the Mountain Warfare Training Center (MWTC) Base Housing.
The following agencies were dispatched to the scene:  Antelope Valley Fire Department, MWTC Fire Department, Mono County Paramedics, Mono County Sheriff's Department, California Highway Patrol, MWTC Police Department, along with the East Fork Fire Department out of Nevada.
Upon arrival, medical personnel assisted the victims and fire personnel battled the fire, which was still engulfing the residence.  Careflight responded and two of the victims were airlifted to hospitals out of the area, with another victim being pronounced deceased at the scene.
Mono County Social Services responded and opened the Walker Community Center for use as a shelter, if needed, and the Red Cross was contacted out of both California and Nevada.