At 11:00 Tuesday morning Bishop Volunteer Fire Fighters and Cal Fire crews were called out to the asphalt batch plant near the Bishop airport.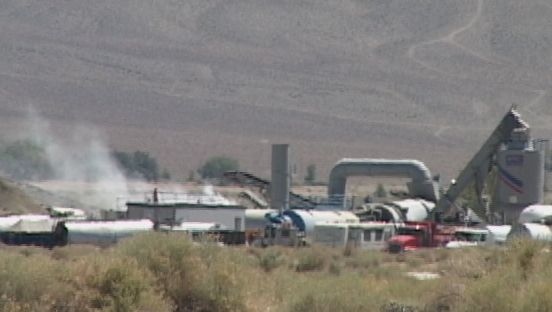 In a potentially dangerous situation, Cal Fire Chief Mike Smith reports that 8,000 gallons of rubberized asphalt caught fire inside a tank. Chief Smith says that water creates problems with a fire like this so crews that work at the batch plant worked to close the tank to slowly snuff out the fire.
Dangerous gas from the fire added to the difficulty for firefighters. Smith reports that the burning mixture gave off hydrogen sulfide, which is both flammable and poisonous. Firefighters secured any ignition sources and kept people away from the tank. With the lid on the tank the fire was left to snuff itself out and cool off. The staff at the plant cant off load the burnt asphalt until the mixture cools enough to put on it on a truck.
Chief Smith says it appears a sensor that triggers an augur inside the tank broke allowing the mixture to be heated higher than normal, causing the fire.
According to Bishop Fire Chief Ray Seguine, this batch plant is being used by a subcontractor working on the Sherwin Grade construction project. Whether this mishap leads to delay on that project is yet to be seen.