A 37-year-old hunter from Lake Elsinore has reached a plea agreement with the Mono County District Attorneys Office after the man was accused of illegally shooting a bear near homes in the Bridgeport area.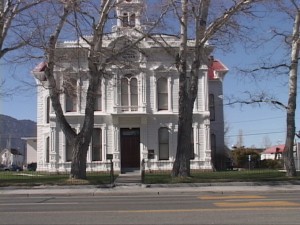 According to Mono Deputy District Attorney Jeremy Ibrahim, the man was charged with being in possession of an untagged bear, and discharging a firearm within 150 yards of an occupied dwelling.
Ibrahim explained that the man had come to the Eastern Sierra to hunt bears when the incident occurred on November 6th. The man had a hunting license and a bear tag, but it appears that the hunter tried to take advantage of a bear that walked within yards of the vacation rental where the man was staying at Upper Twin Lakes.
The hunter shot the bear within nine yards of an occupied residence, and 40 yards from the cabin the man had rented, Ibrahim reports. The hunter used both a bow and a firearm to kill the bear.
Ibrahim explained that a witness heard the gunshots, spotted a blood trail, and called Fish and Game. The game warden then followed the blood trail until he spotted the hunter skinning the bear. The law requires a hunter to immediately notch the tag when the bear is taken, but the man had not done so, Ibrahim explained.
For the misdemeanor charges of being in possession of an untagged bear, and discharging a firearm near an occupied residence, the hunter agreed to pay $1330 in fines.