All you need is love and a trip to either the Inyo or Mono Animal Shelters. Without fail, a visit to those two facilities finds beautiful, eager animals who want to be your pet.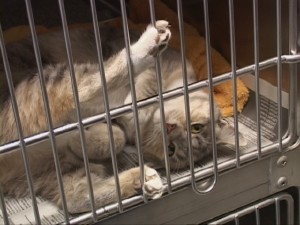 At the Inyo Animal Shelter near Big Pine, a dozen or so cats wait in cages for someone to take them home. The Shelter offers a number of cats of all ages, stripes and colors. They were mostly all instantly friendly, reaching out of their cages and putting on a show for prospective homes.
The Shelter takes care of spay or neutering and asks that future pet owners fill out an application to make sure they're serious about caring for their new pets.
In the dog section, about a dozen or so very eager pups of all ages. Kate Bird of the Shelter showed us a couple of the dogs – this one a Queensland, Shepherd mix – what a sweatheart. A mellow and affectionate dog.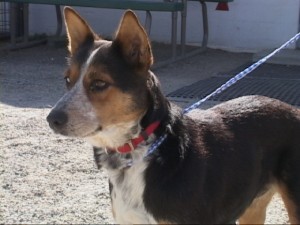 Then there was Archie – unclear just what kind of dog he is. He's small and curly and very cute. Looks like the dog in the movie As Good As It Gets. Remember Burdette? Archie loves attention and someone has filed an application to take him home.
Anyway, if you have the slightest inclination for a pet, try the Animal Shelter in Big Pine. 938-2715. Open Tuesday through Sunday 11am to 4pm. Or the Mono County Animal Shelter on Benton Crossing Rd. 935-4734. Open Tuesday through Saturday 10:30 to Noon and 12:30 to 5pm.
These loving animals can make your life better. We will note that the ICARE spay-neuter program has helped keep the numbers of unwanted pets down and, in fact, the number of animals that are put down every year has dropped very dramatically as a result of this program and the adopt a pet program.