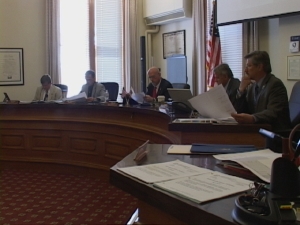 In Bridgeport Tuesday, the Mono Supervisors officially hired a new Finance Director, heard more comments on June Mountain and voted to spend more money on fish.
Inyo County Auditor-Controller Leslie Chapman was there when the Mono Board considered a contract to hire her as Finance Director, and they voted to approve a two-year contract. A full year will pay Chapman $139,000 in salary and around $75,000 in benefits. Officials did point out that this salary is $20,000 less than former Finance Director Brian Muir's pay.
With the opening of fishing season just a little more than a week away, the Board considered the purchase of additional trout stocking by Inland Aquaculture Group. The Board voted in favor of spending around $19,000 from the fish enhancement funds.
At the end of the meeting, about a half dozen people offered some additional comments on the June Mountain situation. Carl Williams of Mammoth Mountain listened in the audience.
Comments have consistently ranged from insistence that Mammoth Mountain re-open June to the additional need for major improvements. Last week, Ski Area CEO Rusty Gregory had laid out his plan to re-open June Mountain this summer to prepare it for the winter. He also described an aggressive plan to add a snow-making operation and new Chair 1.
The major improvements will take a couple of years, and in the meantime, June Lake people want to see some improvements. Gregory had talked about a lot of internal upgrades, including the ski area parking lot which is pitted with big pot holes.
Supervisor Tim Alpers said that he will now review comments made and put together recommendations for the Board on how to help the situation. Alpers said he wants to push forward the concept of an Eastern Sierra Recreation area, including Mammoth and June Mountains with potential help from Mono County on "marketing, public works or planning."