Two weeks ago tonight, a violent and fiery crash killed three people and left 15 others injured. That massive accident south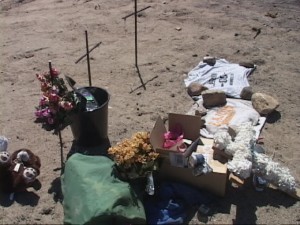 of Bishop has remained under investigation with a CHP report expected out any time.
The CHP's Major Accident Investigation Team or MAIT has focused on that accident to determine the exact cause. They were hampered in their work because key witnesses were medicated and/ or in surgery. Then, the tragic accident in the Mojave Desert that killed eight people at an off-road high speed race drew the attention of the investigation team.
Today, CHP Officer Dennis Cleland in Bishop said that the final report is expected out at any moment. He said that insurance investigators have also been working on
their own accident reports.
Meanwhile, an impromptu memorial has materialized at the accident site. The night of the wreck, a horrible mass of twisted metal filled the scene just south of Bishop. That night we talked to a student in one of three vans traveling to Mammoth Lakes for high altitude sports training. An SUV southbound had rolled, caught fire and hit one of the vans, killing the driver and two people in the SUV. The young woman described what she had seen:
Again, the MAIT team has interviewed survivors of the accident and will have a detailed report on what happened.
The memorial with three crosses for the three fatalities, messages of love and concern, grows with additional items to remember the lost lives.