(CHP press release)  On October 10, 2014, at approximately 3:52 AM, Mr. Marcus Padilla, age 49, of Hawthorne, California (Los Angles County) was driving a truck-tractor with one trailer northbound US Highway 395, north of State Route 270 (Bodie Road), when he reported he fell asleep and allowed his vehicle to travel across the southbound lane and down an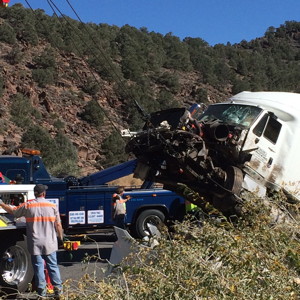 embankment into Virginia Creek.
The involved vehicles (truck-tractor and trailer) came to rest partially in Virginia Creek, immediately west of US 395 and were leaking motor oil, diesel fuel and urea, a chemical that treats diesel exhaust, into the creek.  Two on-duty California Highway Patrol (CHP) officers assigned to the Bridgeport Area office responded and a CHP sergeant was called to respond from their residence.  This event was managed as a hazardous materials incident.
Representatives from the California Department of Transportation (Caltrans), Bridgeport Fire Department, California Department of Fish and Wildlife, Mono County Environmental Health Department and Clean Harbors, a private company from Sparks, Nevada, licensed to cleanup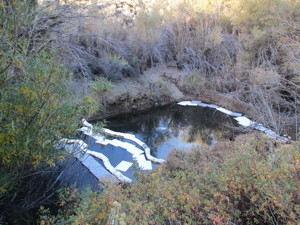 hazardous materials incidents, responded to the scene.  The CHP investigated the incident and oversaw cleanup and removal of the vehicles throughout the day.  It took two "big-rig" towing companies until 7:20 PM to remove both vehicles from the scene, eliminating the potential for release of any further hazardous products into the environment.  At 7:24 PM management of the incident was transferred to the California Department of Fish and Wildlife who will oversee cleanup until conclusion, which will continue into the weekend.
Responding agencies were "on scene" for well over 15 hours cleaning up the release of hazardous products into the creek and providing for the safety of motorists passing by the incident.  The CHP estimates ten gallons of motor oil, five gallons of urea and between five and fifteen gallons of diesel fuel entered Virginia Creek.  It has not yet been estimated how much of these fluids were recovered through cleanup efforts.  Responders did remove 92 gallons of diesel fuel from the truck-tractor, eliminating the possibility of it entering the creek.  The CHP wishes to thank local residents and travelers for their patience and understanding during traffic delays created by this collision and the resulting cleanup.