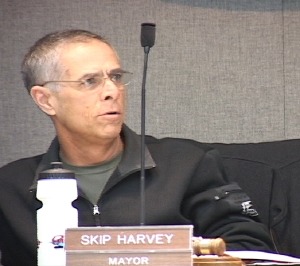 For decades, the film industry has made a healthy contribution to Eastern Sierra towns that serve as locations for movies.  Some local officials want to make sure that relationship continues and grows.
When the Eastern Sierra Council of Governments met recently, Mammoth Town Councilman Skip Harvey and Bishop City Councilman Jeff Griffiths planned to bring up the issue of film crew permits through the Forest Service.  Harvey said he wanted to make sure that there is an open avenue for film makers and a place to go if there are any issues on fees.
Informal reports in the recent past have said that crews were charged big fees for a few minutes of filming on Forest land.  Harvey called the movie business a "good source of revenue."
Councilman Harvey hopes to arrange for a presentation by someone in the Forest Service at a later date to make sure there is a user friendly permit system in place.  "We need to make sure this is on our radar," said Harvey.  He would also like to encourage more moviemakers to use the Eastern Sierra.
In fact, director Quentin Tarantino did find several locations in Inyo County for the filming of his new movie, "Django Unchained."  Unfortunately, the film crew had to cancel plans for filming in Mammoth Lakes, according to sources, because of the lack of snow.  The crew did spend a number of days in the Lone Pine and Independence areas.