A horrible scene of death, fire and suffering – the three car accident on 395 Monday night has left three people dead, four critically injured and twelve others with minor to serious injuries. Cal Baptist University's cheerleading coach was among the dead.
According to the Highway Patrol, a flood of 911 calls just before 8:30 Monday night reported a vehicle collision and fire just south of Bishop. Officers said that it appeared a Ford SUV with five occupants was traveling southbound on 395 and went out of control. Officers said the SUV rolled through the asphalt center divider into northbound lanes where it struck the front of a California Baptist University van that was carrying members of the University's cross country team. A Subaru with one occupant hit the Ford SUV. Two were killed in the SUV and three sustained third degree burns and multiple areas of trauma. Later reports said that the people in the SUV may have been student athletes from a San Diego area cross-country team.
There were 13 people in the van. The driver was killed and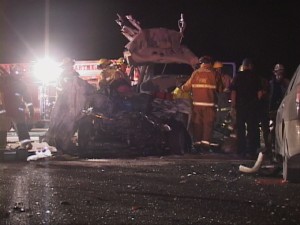 twelve passengers sustained minor to serious injuries. One remained in critical condition. The driver of the Subaru suffered a small area of third degree burns. Reports on scene said the 19-year-old woman from Oregon was a college student.
Inyo Sheriff's Deputy Shane Scott saw the collision in his rearview mirror. The CHP said Deputy Scott went directly to the burning Ford SUV and, with no regard for his own safety, pulled a man from the vehicle. He went back to help a second person who was screaming for help. The intense flames kept Deputy Scott from a second rescue. CHP officers said that a third person, ejected from the Ford SUV and on fire, walked past the deputy and died on the highway.
Reports said that members of the Cal Baptist University's cross country team were traveling to Mammoth for pre-season high-altitude training. The school's cheerleading coach, 35-year-old Wendy Rice of Corona died from the intense impact and fire. Rice leaves behind her husband, Jason, and two children.
At the Inyo Supervisors meeting, Inyo Sheriff Bill Lutze reported that along with his deputies, fire and emergency crews from Olancha, Lone Pine, Independence, Big Pine, Bishop, Mammoth Lakes and Long Valley had responded to the disastrous scene Monday night. Sheriff Lutze called it a "very tragic night." Bishop Police and CHP units also responded.
CHP officers said that the injured were transported to Northern Inyo and Southern Inyo Hospitals. Two of the critically injured were flown to Renown Medical Center in Reno and one to West Hills Hospital in the San Fernando Valley. Orthopedic cases were transferred to Mammoth Hospital. The CHP in Bishop will handle the investigation with assistance by the Major Accident Investigation Team.