In an apparent mix-up, DWP crews at work on a ditch project south of Big Pine accidentally cut through Suddenlink's fiber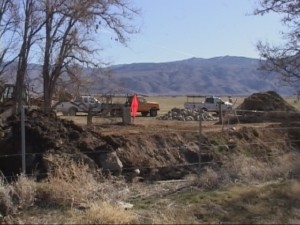 optic line which took out all internet and phone service at the Inyo Courthouse and internet/ TV service to the town of Independence.
Suddenlink management said that the Digalert service had scheduled the DWP job for Tuesday when they would have marked locations of lines underground. The actual DWP job was Monday.
Suddenlink crews immediately went to work to repair the line. Manager Marc Bandini said that everything south of the fiber line cut went down. That included internet and phone service at the Inyo County Courthouse. Just in time for a murder trial to begin, that of Edward Keller, Jr.
Prospective jurorshttp://www.news.sierrawave.net/ showed up and were eventually excused because the court case management system relies on computers and the internet. Court officials could not proceed with the trial and instead continued it until Wednesday.
Bandini said he's proud of his crews who stayed on the job until 3am to restore complete service to Independence. Services were brought back up for residential customers before 10 pm and the courthouse was back in order when employees showed up for work.