The mood at Thursday's Bishop Airport scoping session prior to the environmental
assessment process was cautiously optimistic, with strong enthusiasm for incoming tourists and
the outgoing locals.
The proposed commercial service focuses on the ski season with three daily flights by
United Express from Los Angeles, San Francisco and Denver starting December 15 through April
15 and one flight daily from Los Angeles during the summer and the shoulder seasons.
Federal Aviation Administration requires both a National Environmental Protection
Act and California Environmental Quality Act analysis. Inyo County is holding to its October date
for air service to be underway.
County Associate Planner Ashley Helms opened the workshop with Chris Jones of
Environmental Sciences Associates providing the basics. The County has either completed or
will have completed required upgrades to parking, taxiways and runways and the terminal.
Jones told the crowd the environmental work will be wrapping up by the time the FAA does its
final inspection and certification.
Helms explained one reason for the short time frame: there is no ground disturbance
involved in the project, just upgrades to existing facilities. The study focuses on the impact of
air service alone.
Most of the comments were positive, despite a relatively short period of time to resolve
issues like transportation from the airport to locations in the Eastern Sierra, an airport security plan and the possibility of paying subsidies to the airline for unfilled seats. Bruce Klein expressed a concern
for the environmental impacts on wildlife and agricultural resources.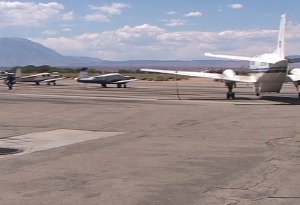 Another scoping meeting is scheduled for Monday, Jan. 27,  at the Town of Mammoth Lakes Offices, 437 Old Mammoth Rd, Suite Z from 6-7 pm.
The deadline for comments is February 6. Scoping information is posted on the Inyo
County website: https://www.inyocounty.us/sites/default/files/2020-
01/1.22.20%20BIH%20Public%20Scoping%20PowerPoint.pdf