Fetus Discovery  (press release)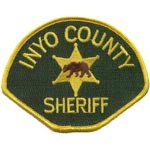 On Friday May 9th, the Inyo County Sheriff's Office was notified that a fetus was discovered in the Rovana housing track sewer ponds.  According to the medical examiner, the fetus is a male and is believed to be between 12-18 weeks of age.
The Inyo County Sheriff's Office is asking for the public's assistance in obtaining any information regarding the fetus.  Tips will be anonymous and can be made by calling 760-878-0383.