A three-car pile-up on Bishop's Main St. Monday involved a drunk driver, according to Bishop Police.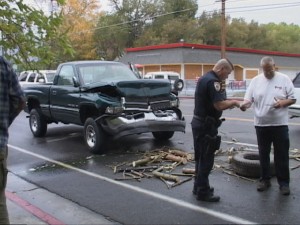 On Monday at about 1:15, police responded to an accident near the intersection of Yaney and Main Streets. Police Officer Mike Mairs reported that the investigation of the three-vehicle accident revealed that the driver of a 1997 green Dodge pickup rear-ended a 1997 GMC pickup in the northbound lanes of Main St. while the GMC was stopped for a red light.
Officer Mairs said the impact of the Dodge truck pushed the GMC truck into the rear end of a travel trailer towed by another pickup. This investigation resulted in the arrest of the driver of the green Dodge pickup, Mark Douglas Heffron, 47, of Bishop. He was booked for Felony Drunk Driving.
A passenger from the truck towing the trailer was transported to Northern Inyo Hospital by Symons Ambulance. Injuries were believed to be moderate. Heffron was taken to the Inyo County Jail in Independence.