By Deb Murphy
Now that Inyo and Mono counties have spent time and resources gauging area acceptance, or not, of recreational marijuana, the U.S. Attorney General Jeff Sessions has roiled the waters.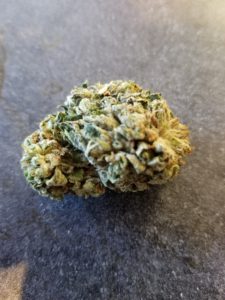 Late last week, Sessions rolled back the President Obama policy of letting states deal with pot issues. In essence, under the Cole Memorandum the federal agencies did not allocate resources to low level marijuana offenses.
But, marijuana is still federally listed as a Schedule 1 drug, right up there with heroin.
Sessions still leaves the pursuit and prosecution up to federal agencies in each state, but locally Inyo's District Attorney Tom Hardy has no idea what that will look like.
In an e-mail, Hardy explained the hierarchy of law enforcement. The AG "can't order state or local authorities to take action. But he can have the DEA, FBI, Alcohol, Tobacco and Firearms and other federal agencies investigate violations of federal laws."
According to Hardy, federal and state or local agencies worked closely, figuring out on what level to prosecute marijuana violations. "Right now, I have no idea what is going to happen in states with legal cannabis," he stated.
Both Inyo and Mono counties fall within California's Eastern District and U.S. Attorney McGregor Scott. Scott's office provided the following statement into which almost anything can be read:
"The cultivation, distribution and possession of marijuana has long been and remains a violation of federal law for all purposes. We will evaluate violations of those laws in accordance with our district's federal law enforcement priorities and resources. We will continue our long-standing efforts to assess and address the unique threats and challenges facing our district together with our state, local and federal law enforcement partners."
Sessions and the shift in federal policy wasn't even mentioned at yesterday's Inyo Supervisors' meeting as they approved the county's cannabis ordinances. The only major change from prior hearings: Planning Director Cathreen Richards strongly recommended not allowing non-volatile manufacturing in residential zones—citing non-compliance with Inyo's General Plan.
Next Tuesday, the Supervisors will hold the second reading with the ordinances going into effect 30 days later. Deputy County Counsel John Vallejo explained staff will use those 30 days to work through licensing details. With the permitting time-frame anticipated to take 60 days, the first commercial operations could open for business by spring or early summer.