$5.2 million in economic stimulus money is slated for local roads in Inyo and Mono Counties. Funds will go to projects in Tecopa and Mono County.
With Federal Economic Stimulus money headed toward shovel ready, public works projects, Caltrans officials in Sacramento say that $625 million is slated for 57 road projects like pavement and bridges statewide.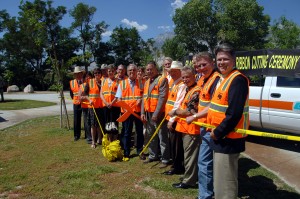 In an effort to keep people working, Caltrans Director Will Kempton says, We plan on starting the first of these projects within 60 days putting people to work as soon as possible. Kempton added that the stimulus money will also be used to leverage other state resources, enabling construction to begin on hundreds of projects throughout California.
In the Eastern Sierra, Susan Lent with Caltrans District 9 reports that two pavement maintenance projects are on the list. In Inyo County, Lent reports that over $2.3 million is slated for maintenance work on Highway 127 near Tecopa/Shoshone. A stretch of 395 in Mono County near Hilton Creek will receive $2.8 million in improvements as well.
This is the first round of federal stimulus money expected for infrastructure in California. Caltrans officials report that the state is expected to receive approximately $2.57 billion for highways, local streets and roads, freight and passenger rail, and port infrastructure projects from this American Recovery and Reinvestment Act.