The fate of 47 cats confined at the Inyo Animal Shelter remains somewhere tied up in the Inyo legal system. It was unclear yesterday if the woman accused of animal neglect of the cats would continue to face charges.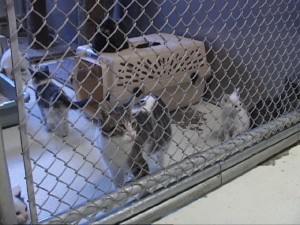 Citizens called KSRW with the belief that the District Attorney would drop the neglect charge against Catherine Maffioli. District Attorney Art Maillet said he was not 100% sure his office would drop prosecution. Maillet said that he believed the County Counsel would start a civil procedure involving the cats and Maffioli so the DA would not have to do a trial. Maillet did say as of yesterday that Maffiolis trial is still set for Thursday and the charge of neglect is still pending.
County Counsel Randy Keller said that the penal code speaks to seizure of animals whose welfare is threatened and a due process hearing for the animal owner within 48 hours. The hearing didnt happen back in July, but now Keller said it will.
The unanswered question, could the cats go back to Maffioli? County Counsel Keller said that if the owner paid a determined amount, she could get the cats back. Their living conditions were described as crowded into a van with one litter box and cat excrement everywhere. In July, the temperature was over 100 degrees and most of the cats suffered from upper respiratory disease when they came to the Shelter.
Because the animals are not neutered or spayed, theyve been multiplying. They are so inbred, according to sources, that kittens are born deformed or dead. Inyo County has paid an extra $200 per month to care for the impounded cats for three months.
Residents who have gone to the Animal Shelter for other reasons have become aware of the 47 cats. Karen Keen of Bishop said she tried to adopt one of the cats but found out they are not adoptable while involved in a court fight. Im appalled, said Keen, and now the DA is talking about dropping charges.
Marianne Brettell-Vaughn of the Bishop area said, I think this needs to be expedited. These are living creatures in a small, over-taxed Shelter. People are waiting to adopt these cats. Its extra work, food and litter for the Shelter.
DA Maillet said the charges had not been dropped and that he was trying to get the County Counsel to do a civil action to avoid a trial. Under the civil procedure, Maffioli could, apparently, get the 47 cats back.