Inyo County Sheriff's investigators continue to look into a death that occurred off the Death Valley Road out of Big Pine.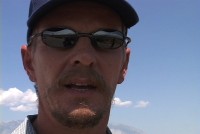 Details are not being released at this time, but detective Jeff Hollowell did confirm that a body was found Monday morning at about 10:40.
This investigation stems from a vehicle accident that occurred roughly ten and a half miles east of Highway 168. CHP Officers report that a man was driving a Toyota pick up west bound on the Death Valley Road at an unknown rate of speed. Officers say that the driver lost control, skidded to the left off the roadway and down an embankment. The vehicle came to rest on its left side in a dry stream bed.
What happened next is unclear. The CHP has not stated that the vehicle accident was the cause of death. The Inyo Sheriffs Department is investigating the cause of death.
Whether the man died from the accident, foul play, suicide, or a natural cause, is not known for certain. Hollowell did say that an autopsy had been scheduled and that the death appeared to be recent.
Whether the person lived locally has not been confirmed. Hollowell said that he was currently following up with investigations outside of our area.