Press Release from BISHOP CHP
"On March 05, 2020 at approximately 12:35 PM, Tyler Nollen of Brisbane, CA, was driving a 2013 Honda Civic northbound US 395, north of Lower Rock Creek Road, at approximately 65 mph. For an unknown reason Nollen allowed the Honda Civic to travel off the roadway. The vehicle continued to travel in a northerly direction across the terrain when it became airborne. The vehicle landed on its roof in a dry creek bed where it came to rest on its wheels. Upon first responders arrival, all parties were trapped in the vehicle.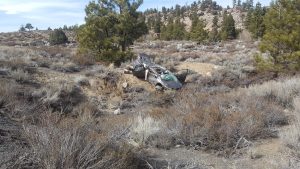 UPDATE: One passenger succumbed to his injuries at the collision scene. The driver and remaining passenger were transported to Mammoth Lakes Hospital with major injuries.All three people in the vehicle were trapped, the CHP said. A 31-year-old passenger died at the scene and Nollen and another passenger, Claudia S. Ramirez, 21, of Peru, were taken to Mammoth Lakes Hospital with injuries the CHP described as major.
Personnel from the following agencies responded to the scene: Bishop CHP, Bridgeport CHP, Mono County Sheriff, Mammoth Lakes Fire Department, Wheeler Crest Volunteer Fire Department, Symons Ambulance, and Cal-Trans. Several off-duty first responders and medical professionals also stopped at the scene to render aid to the injured victims.
This collision is still under investigation by Bishop CHP. The identity of the deceased party will be released through the Mono County Coroner's Office."