51-year-old Mammoth resident and world-famous climber, John Bachar, has died after a rock climbing accident in the Mammoth Lakes Basin.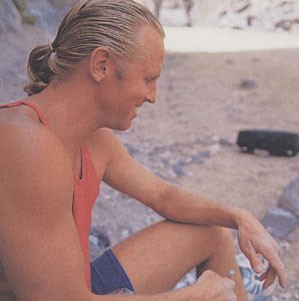 Sunday at 12:00 noon, Mono Paramedics, Mammoth Fire and the Mono Search and Rescue team responded to the climbing area known as the Dike Wall near Lake George. According to sheriffs deputies, no one saw what happened but nearby climbers heard the fall and were able to reach Bachar within one minute. He was evacuated from the scene by wheeled litter and then by boat across Lake George to the waiting ambulance. Bachar was transported to Mammoth Hospital where he died shortly after of severe injurie,s according to sheriffs officials.
Bachar was renowned world-wide for his high level of climbing since the mid-seventies. Known for difficult climbs with a rope, Bachar became a climbing icon famous for difficult ascents without a rope, using only his hands, feet, and skill to keep him on the rock.
Sheriff officials have not said how far the man fell or what may have led to the accident.