A fatal accident on 395 has led to charges against Lamont, CA resident Richard Galvan.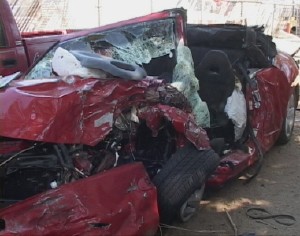 On Sunday September 7th, Galvan was driving a blue Chevy Colorado pick-up north bound on 395, a half mile south of the Division Creek Rest Area near Independence, when for an unknown reason the blue truck drifted into the opposing southbound lane, according to CHP.
The pick- up hit an oncoming Mitsubishi Eclipse head on. The Chevy pick up was heavily damaged. The driver, Galvan, suffered moderate injuries. A thirteen year old female and a 10 year old male, passengers in the Chevy, suffered minor injuries.
The red Mitsubishi Eclipse was badly mangled in the head-on with the pick-up. The driver, 39 year old Jaime Moreno Quezada of Bakersfield was killed in the violent collision. 20 year old Oscar Lujano of Lee Vinning suffered moderate injuries, according to CHP.
A 17 year old male, also of Bakersfield, suffered major injuries and was airlifted to Reno.
According to the Inyo District Attorney's Office, Galvan has been charged with vehicular manslaughter with no gross negligence and failure to keep the right of way in this tragedy on the highway.