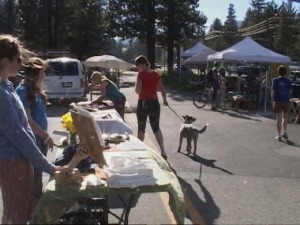 A cool spring has slowed down fruit and vegetable production but not the spirit of those who would buy, sell and display at Farmers Markets. Mammoth Lakes launched the first Farmers Market Wednesday on South Frontage Road in front of the Luxury Outlet Mall.
I talked to organizer, Sandra DiDomizio of Green Fox Events who suggested that those who want to be vendors at the Farmers Markets, check in with her at [email protected]. So, every Wednesday from 4pm to 7pm in front of the outlet mall.
In Bishop, the first Farmers Market will happen Friday, June 17 from 5pm to 8pm on Academy St. The Bishop City Council agreed to close the street on Fridays for this purpose into November.
One more food note. Sierra Bounty Produce Collective invites you to the first annual Taste of the Bounty. Locally grown foods of the region. Monday, 4:30pm to 8pm at Stellar Brew in Mammoth Lakes. They promise food, drink and music.