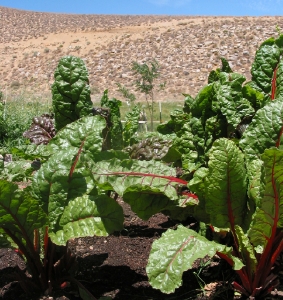 Fresh, locally grown produce has become a way of life in most of our towns in Inyo and Mono with local growers and community gardens. In southern Inyo, growers formed the Owens Valley Growers Cooperative to support local farmers and improve access to local produce. The result – farmers markets all winter long and continuing into spring.
Last year, the Growers Cooperative joined with the Eastern Sierra Certified Farmers Market to launch Southern Inyo Certified Farmers Market. Farmers markets have rotated on Fridays between Mairs Market in Independence and the Metabolic Studio IOU Garden in Lone Pine. Both happen from 4pm to 7pm. Veggies do not sell out immediately, so you can come later in the time frame.
The spring market features produce like lettuce, spinach, mesclun, green onions, radishes, chard, carrots, beets, and kale. The markets also feature baked goods and art. When the weather warms up, farmers will offer tomatoes, potatoes, cucumbers, eggplants, peppers, squash and eventually fruit.
The next southern Inyo Farmers Market is Friday, March 28th in Lone Pine. Then, April 4th in Independence with continued markets rotating back and forth between the two towns on Fridays.