Over the weekend, the West Walker River between Bridgeport and Coleville was the scene of another swift water rescue, the second of the year so far.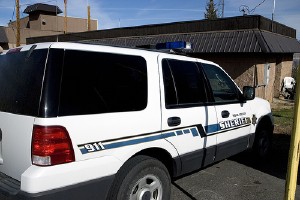 Friday afternoon, just after 4:00 pm, emergency crews in Mono County responded to a report of a raft in distress. Mono Sheriffs Officers, Antelope Valley Fire, Mono Paramedics, CHP and the Marine Mountain Warfare Training Center Fire Department responded to the Bootleg Campground in the Walker River Canyon.
Sgt. Jeff Beard with the Mono Sheriffs Department reports that the family – a mother, father, grandfather, and two children aged eleven and nine, were in an inflatable raft that was stuck in an eddy pinned up against a rock. The family had set out farther upstream at the Shingle Mill Campground where the flows are mild, but the river quickly becomes swift downstream in the Walker River Canyon.
To free the stranded family, Sgt. Beard explained that rescuers set up downstream from the raft with throw bags, basically a rope in a bag that can be tossed to a victimif they ended upfloating downstream during the rescue operation.Then one of the Mono County Paramedics threw a line to the raft to pull theraft out of the eddy. Once free, the raft swung through the current to the shore.
The family was cold and slightly hypothermic, Sgt. Beard reports, but otherwise unscathed.