PETS of the WEEK – December 12, 2012
BRYCE is a 10-month old black and tan Standard Dachshund/Shepherd mix who
walks like a champ on his leash. He's got short Doxie legs and stands about
13″ at the shoulder and weighs approximately 25 lbs. He's the perfect size
and is such a sweet, sweet boy.

ZIP arrived at the Shelter at the tender age of 5 weeks on May 31st. He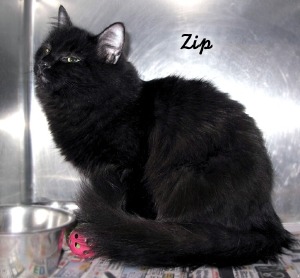 and his 4 littermates were rescued from Our Lady of Perpetual Help Catholic
Church in Bishop. Two have been adopted, but Zip, Zorro and Zoom have been
waiting 6-1/2 months in a stainless steel cat cage! Won't you please
consider adopting one now for just $10 during ICARE's Cat Adoption Special?
The Inyo County Animal Shelter has an amazing selection of adorable cats and lovable dogs. Please adopt one today. Visit in person on County Road in Big
Pine or on-line at 
www.ICAREforPets.org
. HOURS: Tuesday thru Friday, 10 am
to 3 pm, Saturday and Sunday 11 am to 4 pm (closed Mondays). Phone
760-938-2715.