Press releases from Mono County Sheriff's Office
On February 7, 2016, at 9:38 p.m., Mono County Sheriff's Dispatch received a radio transmission of a robbery in progress at a Shell Station, presumed to be in Mono County.  The person broadcasting stated he had one suspect at gunpoint.  However, he did not identify himself, nor did he respond to repeated requests from Dispatch for identification and more detailed information.  Based upon the background noise, the person was with a group or at a party setting.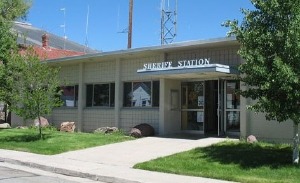 This radio transmission was broadcast on the public safety radio system on a restricted access channel.  Fearing that a first responder, either on or off duty, was in a life-threatening situation, law enforcement officers were dispatched to gas stations throughout Mono County, Mammoth Lakes and into Inyo County and Bishop.  Deputies and officers checked every Shell gas station and other gas stations and found no emergency existed.
The Mono County Sheriff's Office has initiated a crime report for the False Report of an Emergency, California Penal Code Section 148.3, and is seeking the public's help in identifying the perpetrator of this crime.  Falsely reporting an emergency takes law enforcement officers away from other enforcement activities and endangers the lives of the public and first responders.  We do not take this crime lightly and intend to pursue criminal charges against the person or persons responsible.
Please listen to the attached audio file of the radio transmission.  If you recognize the voice, contact the Mono County Sheriff's Office at (760) 932-7549 or you can report anonymously on our website at http://monosheriff.org/sheriff/webform/report-crime
###
Threat at Coleville High School
On February 4, 2016, the Mono County Sheriff's Office received calls from concerned parents regarding threats to students and staff at Coleville High School from a fellow student.
The Mono County Sheriff's Office initiated an investigation into the complaints. During the course of the investigation, the officers developed credible information that threats had been made against students and staff and were provided a timeline when the threats would be carried out.
Based on the findings of the preliminary investigation, a male juvenile was interviewed and was determined to be the suspect in the threats against the students and staff. The male juvenile was detained and transported to Juvenile Hall in Independence, California. None of the students or staff was physically harmed as the suspect was detained prior to implementation of the threats.
The Mono County Sheriff's Office is not releasing names of the student victims, staff victims or the suspect.