Press release
Falling leaves, blazing colors and the back roads of the Owens Valley highlight this weekend's Owens Valley Fall Colors Car Show in Bishop. Coming to town will be over 300 classic hot rods, muscle cars and vintage cars.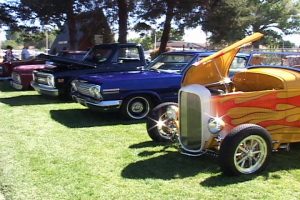 Most the participants will be coming from out-of state or from the large cities. They will arrive just in time for the Eastern Sierra's autumn spectacular fall colors.
The three day event starts this Friday and will continue until Sunday. Catch these beautiful cars starting at 4:30 on Friday at the Kmart parking lot. The cars will be there all evening until 8 pm.
Saturday, the Tri-County Fairgrounds will serve as central stage for the wonderful collection of classic cars. Come join the devoted car buffs for their show-n- Shine starting at 10 am. The viewing will continue until 3 pm and the event is FREE.
Every tree-lined walkway at the fairgrounds is lined with special-interest cars with the beautiful Sierras as their backdrop.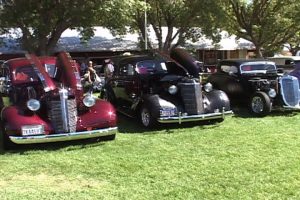 While you are viewing the cars you can also take in the other events at the fairgrounds to include the Altrusa Art Sale, Fall Colors craft show, Lions Club breakfast and of course the long awaited Choo Choo Swap Meet.
If you can't make it to the fairgrounds on Saturday, don't fret as the long line of cars will be cruisin' Main Street in Bishop from 3 pm until 4 pm.
Sunday morning starting at 8 am you will see the vintage cars heading up to Bishop Creek on their ever popular Poker Run. The vivid colors will seduce the cars up Bishop Creek Canyon heading towards South Lake. Most will stop along the way with their cameras to capture all of the exquisite fall colors.
At 11 am the cars will head back to the fairgrounds for the most important awards ceremony where best of class and best of show awards will be presented. The weekend activities will conclude around 1 pm.
owensvalleycruisers.com