Press releases
"Dude, autumn happens here, too."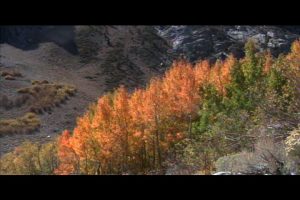 With that statement the Eastern Sierra stakes its claim to having enough bountiful, bright fall foliage to compete with fall color hot spots such as New England and the Rocky Mountains.
Inyo County and the Inyo National Forest are where Californians and out-of-state visitors find the state's first burst of explosive fall colors, according to JohnPoimiroo, who edits California Fall Color, a blog and website (www.californiafallcolor.com) that provides weekly (often daily) reports on where to find fall color in California. The website also informs "dudes" that autumn in all its glory can be just as much a part of the California experience as hitting the beach.
The information and photos on the blog comes from volunteer "color spotters" who send in photos and reports about the status of the fall color coverage in their area. For instance, in Inyo County, "color spotters" keep an eye on popular leaf-peeping spots as Bishop Creek, South Lake and Sabrina, and Aspendale. That kind of "local knowledge" means California Fall Color has up-to-date information describing how quickly or slowly colors are turning in an area, and also provides insights and tips about where the best color-viewing areas are located.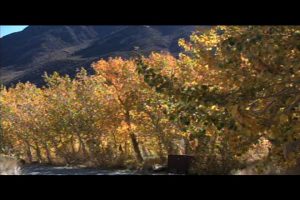 The website already has posted some early season reports, and those updates will continue to past Thanksgiving Day, though reports are often posted as late as December. Inyo County helps sponsor the California Fall Color effort, along with other counties and fall color destinations across the state.
What makes autumn so long-lasting in California is the state's topography, which varies from foliage at 10,000 ft. in elevation down to sea level.  "In New England, the color shows by latitude, descending from Canada through the northeast. Whereas in California, it drops by elevation," Poimiroo explained.
The first signs of autumn are seen at the higher elevations in the Eastern Sierra. Poimiroo noted that this year the color is coming early to Inyo and Mono counties, with trees already starting to turn in Rock Creek and the Bishop Creek drainage.
Typically, ground cover turns crimson in early September, while wildflowers are still blooming, providing a colorful show of orange-red Indian Paintbrush, purple fireweed and lupine, lavender columbine, swaying over a bed of tiny yellow wildflowers. Then, above 9,000 ft. in elevation, quaking aspen begin to show color, turning from green to lime to yellow to orange and fiery red along the grey, granitic slopes of the Eastern Sierra, he said. This quivering, flaming show is getting started at North, South and Sabrina lakes west of Bishop, and in June Lake and the Sherwins, in Mono County, color spotters have reported.
Helping bolster the claim to fall color fame is the Inyo National Forest, which stretches the length of the Eastern Sierra. The Inyo beat out national forests in New England, the Allegheny and Green Mountains in a listing of the top ten fall forests evaluated for The Weather Channel, by GORP.com, a national outdoor recreation website. What they saw is what Poimiroo and his legion of California color spotters report each autumn … the state's combination of stunning vistas and delicate color that continues for weeks on end.
California Fall Color got started in 2005 when Poimiroo was assigned to publicize Mono County in eastern California.  "I soon found that autumn occurred across September and October and into November on the eastern side of the state. I then became aware of reports from other parts of California which established for me how widespread and long lasting our autumn is."
"That isn't what most Californians or its visitors think," Poimiroo says.  "They see California as without seasons, as along the coasts and throughout the vast central valley, there isn't much color, but California is huge (780 miles long and 350 miles wide) and within it are large pockets of fall color that are truly breathtaking to behold.  You just have to know where to see it and when to go.  That's why we created California Fall Color."
To see the latest fall color reports, or to find out how to become a "color spotter," visit www.californiafallcolor.com.
MONO COUNTY, Calif. – Mono County in California's scenic Eastern Sierra isn't just a beautiful place to visit for fall foliage viewing as trees turn gold, orange and red, it also offers up a variety of fun events for visitors. From the arts to fishing derbies, the autumn season is loaded with festivals and fun.
A can't-be-missed event for beer lovers is the June Lake Autumn Beer Festival, planned for Oct. 1. Tickets for the all-you-can-taste beer garden are sold out, but anyone can come to enjoy the food and music and buy individual pints, (ID required).
The Mono Arts Council is also putting on a special Art & Wine on Location event on Oct. 8 and 9 that includes two arts workshops, plein art painting and photography.
The Inspired by Nature Writer's Retreat in June Lake on Oct. 14-16 is designed to get the creative juices flowing in the inspiring scenery of June Lake, hosted by the June Lake Loop Performing Arts Association.
Also in Antelope Valley, the Eastern Sierra Kite Festival on Sept. 17-18 includes high flying kite demonstrations, kite decorating and flying contests, a fun run, food and drink.
The 53rd Annual Deer Hunter BBQ welcomes visitors to the Antelope Valley Community Center in Walker, Calif. on Oct. 1. The local Lions Club prepares this deep pit barbecue feast using a traditional secret sauce recipe, and homemade desserts top off the fundraiser evening. To find out more about these three Antelope Valley events, go to northernmonochamber.com or call 530-495-2323.
Ambush at the Lake Fishing Derby started on Sept. 5 at Convict Lake and continues through Nov. 15 with $6,000 in prizes and the Morrison's Bonus Derby Weekend follows on Oct. 28-30 with $2,200 in cash prizes.
To get in the Halloween spirit, visit Tom's Place Resort for the their annualHalloween Party, Oct. 29. For a spooky Halloween experience, check out theHalloween Haunted House at Heidelberg Inn in June Lake, Oct. 31.
Outside on the Eastside is a fall celebration of arts, culture and recreation in Mammoth Lakes, visit their fall colors page for more info.
For more information on events in Mono County, visit the calendar of events:monocounty.org/calendar
For a free Eastern Sierra Fall Color Map and Guide and more info on autumn events, contact www.MOnoCounty.org or call 800-845-7922.