Report from California Fall Color
Following is a summary of reports on autumnal change across California. It is compiled from reports and photographs submitted by a network of volunteer observers.
Similar reports on the status of fall color across California are sent each Thursday until the Thursday before Thanksgiving Day. If you do not want to receive the reports, click the opt out option on the email and your email will be removed from the list.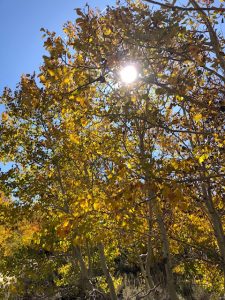 All reports are substantiated by dated photography. The California Fall Color Report is provided as a free service to media by CaliforniaFallColor.com. Media may extract from the report as they choose.
Additionally, a selection of the finest and most representative photographs of fall color taken across California in the preceding week is provided for royalty-free use by media, by their photographers. All photographers have granted permission for their photographs to be made available to media in return for photographer credit.
To view and use the Best of the Week fall color photographs, visit:
https://www.dropbox.com/sh/2jhfyku4ms660tt/AADxI_8NIZfHYoVzuzF01qP2a?dl=0
Statewide Summary
Bishop Creek Canyon is peaking. This Eastern Sierra canyon, west of Bishop (US 395) in Inyo County, is often the first location in California to peak, and many believe that it is one of the most beautiful fall color destinations in North America.
What makes it so exceptional is that Bishop Creek is fed by three forks: south, middle and north. Paved roads travel beside each fork up separate canyons, ending at pristine lakes at 9,000' in elevation. Beyond the lakes, Sierra peaks rise thousands of feet more to sawtooth peaks.
Often, snow covers these High Sierra peaks. Snow and the fall color (mostly aspen) reflect white, indigo, grey, red, orange, yellow and lime colors in the cobalt and turquoise waters of the lakes.
On evenings when cumulus clouds litter the sky, the setting sun illuminates the clouds with brilliant pink, purple, orange, red, blue, yellow and purple colors, that are reflected in the lakes.
It is this contrast of fall color, clear skies and the rugged majesty of the Sierra Nevada that exemplifies California Fall Color. This weekend and the following week such scenes will be common up Bishop Creek Canyon. It is a must-do experience that every Californian should witness, but it only happens for two weeks a year and that's happening now.
Similarly, elevations above 9,000' in Mono County (north of Inyo County) are now peaking. California's first peak was reported here at Sagehen Summit and the Virginia Lakes (near Mono Lake). California's first Past Peak was reported for Virginia Lakes in Mono County where cold and wind stripped the aspen of their leaves, causing us to announce, "YOU MISSED IT!"
Fall color was late to appear in the Eastern Sierra. That has been the general trend across the United States. Abnormal weather and precipitation have been blamed or credited for late or early appearances of fall color, according to a review of articles posted online.
In California, the Eastern Sierra is late by a week, the Northern Sierra (north of Lake Tahoe) and Southern Cascades are showing slightly early. All other areas of the state have not reported, significantly, which could mean they're late or on time – it's just too early to tell.
Bold reports indicate "Near Peak" or "Peak" conditions, which means "GO NOW!"
Eastern Sierra
Inyo County
Bishop Creek Canyon – S Fork (by elevation)
South Lake (9,768') – Peak (75-100%) GO NOW!
Weir Pond (9,650') – Peak (75-100%) GO NOW!
Parchers Resort (9,260') – Peak (75-100%) GO NOW!
Willow Campground (9,000') – Peak (75-100%) GO NOW!
Surveyors Meadow (8,975') – Near Peak (50-75%) GO NOW!
Table Mountain Camp (8,900') – Peak (75-100%) GO NOW!
Stiny Loop/Mt Glen Camp (8,500') – Near Peak (50-75%) GO NOW!
Mist Falls and the groves above Bishop Creek Lodge (8,350') – Patchy (10-50%)
Four Jeffries (8,000') – Just Starting (0-10%)
Bishop Creek Canyon – M Fork (by elevation)
Lake Sabrina (9,150') – Peak (50-100%) GO NOW!
Sabrina Approach (9,100') – Peak (50-100%) GO NOW!
Sabrina Campground (9,000') – Peak (75-100%) GO NOW!
Groves above Cardinal Village (8,550') – Peak (50-100%) GO NOW!
Aspendell (8,400') – Patchy (10-50%)
Intake II (8,000') – Just Starting (0-10%)
Bishop Creek Canyon – N Fork (by elevation)
North Lake (9,255') – Near Peak (50-75%) GO NOW!
North Lake Road (9,000') – Near Peak (50-75%) GO NOW!
Pine Creek Canyon (by elevation)
Pine Creek Canyon (7,400') – Just Starting (0-10%)
Pine Creek (7,000') – Just Starting (0-10%)
Owens Valley (alphabetically)
Alabama Hills (4,534') – Just Starting (0-10%)
Big Pine (3,989') – Just Starting (0-10%)
Big Pine Creek (7,660') – Just Starting (0-10%)
Bishop, Buckley Ponds – 4,150') – Just Starting (0-10%)
Bishop, downtown (4,150') – Just Starting (0-10%)
Bishop, Rawson Ponds (4,150') – Just Starting (0-10%)
Independence (3,930') – Just Starting (0-10%)
Lower Rock Creek Rd. (7,087') – Just Starting (0-10%)
Mt. Whitney Fish Hatchery (4,000') – Just Starting (0-10%)
Mt. Whitney Portal – (8,374') – Patchy (10-50%)
Onion Valley (9,600') – Peak (75-100%) GO NOW!
Owens Valley (4,000') – Just Starting (0-10%)
Round Valley (4,692') – Just Starting (0-10%)
Mono County (south to north)
Rock Creek Lake (9,600') – Peak (75-100%) GO NOW!
Rock Creek Road (below 9,600')
Crowley Community (6,781')
McGee Creek Canyon (8,600') – Near Peak (50-75%) GO NOW!
Convict Lake (7850′) – Patchy (10-50%)
Mammoth Lakes Basin (8,996′) – Patchy (10-50%)
Devil's Postpile National Monument (7,556') – Patchy (10-50%)
June Lake Loop/Hwy 158 (7,654′)
Sagehen Summit (8,139') – Peak (75-100%) GO NOW! – This is last call for Sagehen. Some groves are still orange, while others are near Past Peak. Should be over by next week.
Tioga Pass (9,943′)– Patchy (10-50%)
Lee Vining Canyon (6,781′) – Just Starting (0-10%)
Lundy Lake & Canyon (7,858′) – Patchy (10-50%)
Virginia Lakes (9,819') – Past Peak YOU MISSED IT!–
Conway Summit (8,143') – Patchy (10-50%)
Twin Lakes (7,000') – Just Starting (0-10%)
Molybdenite Creek Trail (7,865') – Patchy (10-50%)
Dunderberg Meadows (7,200') – Just Starting (0-10%)
Summers Meadow (7,146')
Upper Summers Meadow (10,300') – Peak (75-100%) GO NOW!
Lobdell Lake Road (8,600′) – Near Peak (50-75%) GO NOW!
Sonora Pass (9,623′) – Patchy (10-50%)
Walker Canyon, Walker, Coleville and Topaz (5,200′) – Patchy (10-50%)
Sweetwater Mountains (5,000 to 11,654') – Near Peak (50-75%) GO NOW!
Monitor Pass (8,314′) – Just Starting (0-10%)
Topaz (5,033') – Just Starting (0-10%)
High Sierra (south to north)
Hope Valley, CA-88 (7,300') – Patchy (10-50%)
Floristan, I-80 (6,381') – Just Starting (0-10%)
Martis Creek Cabin, CA-267 (7,000') – Just Starting (0-10%)
Rainbow Lodge (5,800') – Just Starting (0-10%)
Shasta Cascade (south to north)
Quincy (3,342') – Just Starting (0-10%)
Bucks Lake, Plumas County (5,000') – Patchy (10-50%)
Genessee (3,701') – Patchy (10-50%)
Greenville (3,586') – Patchy (10-50%)
Feather River Canyon (2,000 to 3,000') – Patchy (10-50%)
Big Creek, Meadow Valley (3,600') – Patchy (10-50%)
Mill Creek at Highland's Ranch Resort (4,737') – Patchy (10-50%)
Long Lake, CA-44, Lassen County (5,740') – Peak (75-100%) GO NOW!
Manzanita Lake, Lassen Volcanic National Park (5,900') – Just Starting (0-10%)
Cassel (3,320') – Just Starting (0-10%)
Etna (2,936') – Near Peak (60-75%) GO NOW!
Burney Falls (3,281') – Just Starting (0-10%)
Faery Falls (3,586') – Just Starting (0-10%)
Harlan D Miller Memorial Bridge (Dog Creek), Lakehead (1,447') – Just Starting (0-10%)
Southern California (south to north)
Palomar Mountain State Park (6,138') – Just Starting (0-10%)
Big Bear Lake, San Bernardino Mountains (6,752') – Just Starting (0-10%)
All other areas – no report