The local chapter of  Guide Dogs for the Blind is Eastern Sierra Guide Puppies, and one of the local dogs has graduated as a guide.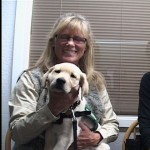 "Falana", lovingly trained by puppy raiser Leigh Gaasch, was in a formal graduation ceremony at the Guide Dog campus in San Rafael earlier this month.
Falana, a yellow lab, was presented to graduating student Wendy.
Leigh Gaash had Falana from a puppy before Falana returned to Guide Dogs for formal guidework training, and now Falana is a full-fledged guide dog for the blind.
Said Leigh Gaasch: "This experience of helping someone to continue their journey in life has most definitely changed my life. I am very humbled and honored. Wendy and Falana are perfect team, with many years of journeys ahead of them."
A very cool story, and congratulations to Leigh, Falana and Wendy.
Visit the website guidedogs.com for information on Guide Dogs for the Blind.