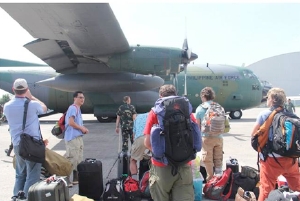 Members of the Mammoth Medical Missions, including sixteen surgeons, doctors and medical support staff, have braved the horrific conditions in the Philippines to help the many desperate, homeless and injured people. They have set up a MASH Unit in a small town south of the capitol, Tacloban.
Mammoth orthopedist, Dr. Mike Karch, heads up the team. His wife, Dr. Kim Escudero said she spoke to Karch Monday night via satellite phone. She said at that point, the team was preparing to deal with an incoming storm. The team had set up in City Hall which had no roof. They used tarps for protection but had to relocate to avoid the downpour of rain.
Escudero said as soon as they set up their unit, 300 people lined up for help. They are performing operations and other aid. The Mammoth team was quickly running out of supplies and water. Escudero said they were in contact with the Team Rubicon from Los Angeles, who was expected to arrive and help Mammoth on Tuesday.
Escudero said travel in the area is very difficult because of the severe damage done to roads and buildings.
NBC television reporter Harry Smith had described the depth of the terrible situation in the Philippines. He said that there was a question about people who survived keeping their sanity.
The Mammoth Medical Missions had been on the way to planned aid in Mexico when they decided to go to the Philippines instead. They flew on a commercial flight into Manila, took a military transport to Tacloban and then on to the nearby smaller town.
This mission is a costly one for the Mammoth group. They would appreciate donations which can be made directly at their website, www.mammothmedicalmissions.org/donate.