Local politics have splashed all over Facebook on the internet this go-around. In the case of the Mono Sheriff's election, controversy erupted when some reports leaked out that the Sheriff had demanded officers not show support on his opponent's Facebook page. Sheriff Rick Scholl said that's "absolutely not true."
The Sheriff said what did happen is that a lieutenant addressed Facebook use generally during a routine briefing. The Sheriff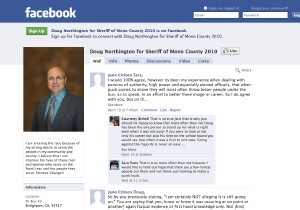 said that some of the officers are supporting Doug Northington. Scholl said that the Undersheriff asked officers if they were supporting Northington. For those who said, yes, the Undersheriff, Scholl said, told them that's okay just keep it out of the work place.
Scholl said that one of his lieutenants put out a memo that addressed the patrol division and advised them to be careful about what is posted on Facebook and other social media on the internet since what is posted can be "discoverable" in legal matters.
Sheriff Scholl said he was notified by county attorneys that internet postings can be a serious issue. Scholl said in some jurisdictions officers have taken cell phone pictures of crime scenes and posted them on Facebook, which can be a legal problem.
Said Scholl, "No one told the officers they can't support Doug Northington or show that support on his Facebook page. That's a First Amendment right.
Sources said some Sheriff's officers did remove their names from Northington's Facebook but that their wives may have posted names in support instead.