ABC Eyewitness News came to town this week. Reporter Gene Gleason interviewed Air Pollution Controls Ted Schade, Inyo Supervisor Bev Brown and Water Director Bob Harrington about DWP's use of water on the Owens Dry Lake. As Gleason said, with mandatory water rationing right now LA wants to see more water flowing down the aqueduct.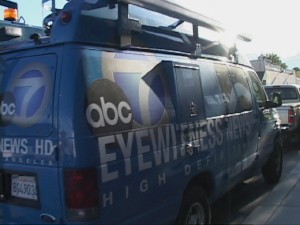 Gleason said that ABC likes to stay in touch with the Owens Valley and this time focused on water as the means to control dust at the Owens Lake. LADWP has politicked to use other methods. Water is scarce this year and more expensive than ever.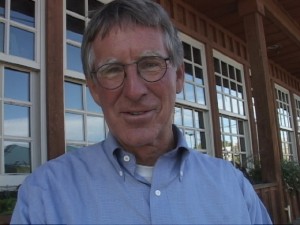 Supervisor Brown supports not using good, potable water on the dry lake. She apparently didn't say how effective dust control would be maintained without it. She said she would like to see the additional water used somewhere else in the Owens Valley. LA likely wants it in the aqueduct.
LA has talked about pumping water up from under the Dry Lake to put on top of the dust. DWP is also experimenting with what they call moat and row – rows of dirt to trap dust. The effectiveness of that method remains uncertain.
Reporter Gleason said he also covered the completion of the highway widening between Independence and Big Pine a route highly traveled by Los Angeles vacationers.