Mammoth residents are still talking about an incident more than a month ago that involved a report of armed robbers who turned out to be local teenagers with cokes. Mammoth's Police Chief responded to questions about the strange incident.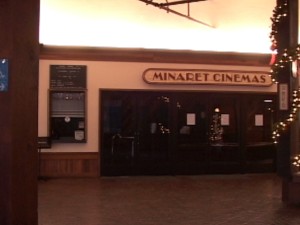 A month or so ago, an off-duty San Bernardino Sheriff's deputy looked into the window of the Java Joint in the Minaret Village Shopping Center in Mammoth. He thought he saw three men with guns. That deputy contacted the police. Mammoth Police Officers responded with guns drawn.
Minaret Cinema owner, Bill Walters, confirmed that three Mammoth Police officers ran into the theater with guns drawn. He said they hauled three teen boys out of the theater and held guns to their heads. A CHP officer also came in with a rifle. Walters said the boys explained that one of them was the son of the owner of Java Joint and that all three had just gone in the store for cokes. Walters said he wished it could've been handled differently.
Local residents who heard about the incident or who saw the boys and the police said they were frightened and wondered what happened. Mammoth Police Lieutenant Jim Short said he debriefed officers on the whole situation and used the unusual incident as a training opportunity.
Police Chief Randy Schienle stood behind his men. He said, "Our guys had information of the potential of people in the movie theater with guns. We had a credible witness, an off-duty officer, who reported armed men." Chief Schienle said his officers went in with a heightened level of awareness but once they realized what they had, they acted appropriately.
Schienle said that when a police officer gets that kind of information, they have to respond to it. The Chief said, "We understand the trauma to the boys and their families, but we had to do what we did." Chief Schienle added that "There is no more serious call for law enforcement than the one we got."