Press release
WHAT: Hundreds of electric vehicle drivers, EV enthusiasts and EV curious, will gather, to highlight the fun, clean-air benefits, and cost-savings of electric cars at Mammoth Lakes' first National Drive Electric Week Event, "Experience Electric". The event is part of the fifth annual National Drive Electric Week.
Owners of electric cars, including Teslas, Mitsubishis, Chevys will offer free rides in their vehicles to share their experiences, including SUVs with plenty of room to carry recreational gear.
EV Educators will be on hand to answer questions about charging, installing charging in your home or business and the many incentives that are available, Federal, State and Local that make driving electric accessible for every budget.
Mammoth Lakes' event is one of more than 300 across the country where electric vehicle owners and their neighbors will hold electric car parades, "tailpipe-free" tailgate parties, recognition of leaders promoting EVs, launches of new public EV charging stations and other public events.
WHEN: Sunday, September 9, 2016, 10 am – 4 pm
WHERE: Park and Ride Lot, Old Mammoth Road/Tavern Road, Tesla Supercharging Lot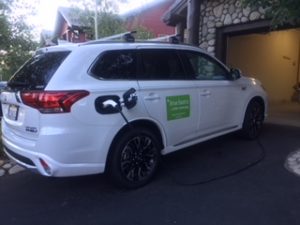 VISUALS: Large education tent to sit and chat with EV Educators. Stage presentations. Registrants and trolley riders will get a chance to win a free ticket to Gran Fondo 2019 and gift certificates to local restaurants and shops in the free raffle every hour.
WHO: Mono County Commissioners, Town of Mammoth Lakes Council members, Gran Fondo cyclists, friends, family, Mammoth residents and visitors
Eastern Sierra Electric Vehicle Association, chapter of Electric Auto Association, is organizing the Mammoth Lakes Event. Sierra Club and Ready for 100 are local sponsors. Plug In America, the Sierra Club and the Electric Auto Association are national organizers.
For a complete list of National Drive Electric Week events, visit: https://driveelectricweek.org/
For more information about Mammoth Lakes Drive Electric Week, visit: https://driveelectricweek.org/event.php?eventid=1419
About the Electric Auto Association: The Electric Auto Association, formed in 1967, is the oldest and largest nonprofit volunteer organization with 75 chapters worldwide that promotes the advancement and widespread adoption of electric vehicles. www.electricauto.org.
About Plug In America: Plug In America, a Los Angles-based national nonprofit organization, works to accelerate the shift to plug-in vehicles powered by clean, affordable, domestic electricity to reduce our nation's dependence on petroleum and improve the global environment. The organization conceived National Drive Electric Week and has advanced workplace charging by pioneering regular ride-and-drive events at such leading corporations as Google, Mattel and Paramount Pictures. It developed the world's largest, most dedicated network of plug-in vehicle owners and drivers, many of whom have driven EVs for well over a decade. We drive electric. You can, too. www.pluginamerica.org.
About the Sierra Cub: The Sierra Club is the nation's oldest and largest grassroots environmental organization with more than 2.4 million members and supporters and chapters in all 50 states.  The Sierra Club's national electric vehicles initiative advocates for a switch to EVs as one important way to reduce emissions and cut oil consumption. Sierra Club is proud to have been one of the three national groups organizing National Drive Electric Week since its inception in 2011. www.sierraclub.org/EVGuide.