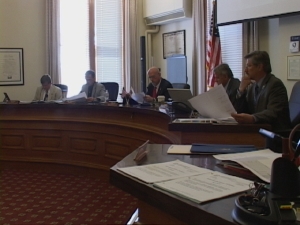 California Air Resources Board diesel emission requirements will ultimately cost Mono County, and many others, millions in equipment replacement. Though deadlines do not start until 2019, the Mono Supervisors want to address the problem now.
When they met on Tuesday, the Board heard from Acting Public Works Director Jeff Walters. He had said that Mono County has 68 diesel-powered heavy equipment vehicles that must comply with Air Board rules by 2019 and 2025. Walters told the Board that by 2018 the County would have to come up with around $6 million for equipment replacement. Said Walters, "The earlier we get started, the less the pain."
Walters said that for on and off road vehicle replacement, Mono County would ultimately have to spend $26 million. Supervisor Chair Byng Hunt jokingly questioned, "Would Mono County be better off seceding from the State of California?"
In addition to air quality regulations and equipment changes, Mono County has a regular vehicle replacement schedule. Supervisor Larry Johnston suggested a "frank discussion about what we can do without. Mono County has about one vehicle per employee," he said. Johnston said the County should start out small and ramp up over time.
Supervisor Fred Stump said the County needs to get going on this as soon as possible. He said Public Works should determine which vehicles are needed or need to be replaced. He asked Public Works to create a list.
Officials pointed to an impact on County services, depending on what vehicles might be eliminated. Supervisor Tim Alpers said there is a tipping point of expenditure versus service. He said, "We have to answer to that. We need to get the Planning Advisory Committees involved and the media." Alpers said, "They need to be educated on the danger we're in. This could mean the insolvency of the County if we don't handle it properly."
Supervisor Tim Fesko asked Walters to bring back information on truck needs and equipment rental possibilities. He said he would like to start banking money for this. All board members seemed to agree.