Even before news of a deadly horse virus, the Bishop Mule Days Executive Board faced a down year, impacted by the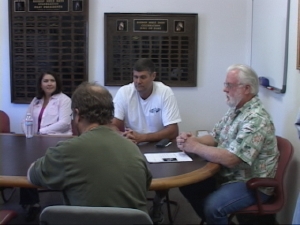 economy and gas prices. Last Monday they got the word that an equine virus had infected horses in western states. Board members faced the possibility that the State might shut down Mule Days. The board spent long days and nights to research the issues. They made a firm decision to proceed with Mule Days.
On Friday, members of the executive board invited the media to the Mule Days office to ask questions. Dana Crom explained that after the board heard about the deadly virus, they talked to the local Agricultural Commissioner, the State and UC Davis Veterinary School. No one recommended cancellation of Mule Days. Crom pointed out that PCRA rodeo is not canceling neither are other horse events in California and Nevada.
Board member Rick Pucci said people who take animals to shows know there are always risks. "They make personal decisions," he said. Board members estimated that tickets and expected attendance is down by about 20% as it has been the last couple of years. RV reservations at the fairgrounds, however, are up with no cancellations. Animal entries for shows and the parade are down. Board member M.C. Hubbard said 80 animal entries cancelled, including a couple of government pack teams. Officials said Reds Meadow and Rock Creek pack stations have volunteered their animals for Mule Days.
Since local private equestrian centers will not let visiting animals in, Mule Days has set up areas at the fairgrounds to accommodate visiting animals. Mule Days will take many other precautions. Veterinarians will be available on the grounds and will check each animal as they arrive. Traffic in the barns and stalls will be limited to only contestants and show officials.
Security officials will patrol these areas and warning signs will be posted. No dogs will be allowed in the barns and stalls area as a safety precaution. Hand washing stations will be installed in each barn area. A state-recommended isolation area will be established. The equine virus can spread from horse to horse, from human hands, equipment, feed. The virus is airborne.
Mule Days officials have faced tough days and nights with this issue. They assure that even though parade and event entries are down that they will present a highly entertaining event. Officials urge local people in both Inyo and Mono counties to come out and support Mule Days. The crowds will be smaller and easier to navigate. A huge parking area at the fairgrounds will accommodate many cars. We will bring you updates all week long.