State Health, Emergency Officials Urge Californians to Prepare for Excessive Heat  (Press Release provided by ICSO)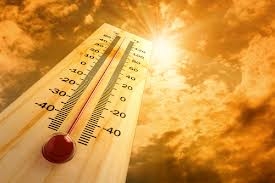 SACRAMENTO – In response to forecasts for excessive heat through Monday throughout much of California, state emergency and public health officials are urging Californians to drink plenty of water, wear lightweight, loose-fitting clothing and take other actions that will reduce their risk of death or heat-related illness.
This warming trend has prompted the issue of Excessive Heat Warnings by the National Weather Service (NWS) through Monday for parts of Imperial, Kern, Los Angeles, Riverside, San Bernardino, San Diego, San Luis Obispo, Santa Barbara and Ventura counties and Special Weather Statements for most of the Sacramento and San Joaquin Valley and foothills, as well as the east Bay Area.
"Prolonged exposure to excessive temperatures can be extremely dangerous, if not deadly, particularly for infants, small children seniors and those with health problems," said Dr. Ron Chapman, director of the California Department of Public Health.  "Last year was the hottest year on record in the United States.  Heat waves in California are projected to occur earlier in the season, be more intense and last longer."
He noted that at on average heat-related emergencies cause 56 deaths in Californians each year and prompt 3,800 people to seek treatment at hospital emergency rooms for heat-related symptoms, with approximately 500 cases per year requiring hospitalization.   At least 136 Californians died due to illnesses prompted by the 13-day heat wave that struck the state in July 2006.
"Cal EMA and its partner agencies have been preparing for excessive heat in many areas of the state this summer and fall by reviewing internal procedures, updating cooling center data bases, identifying state fairgrounds and facilities that serve as cooling centers and taking other actions to help cities and counties throughout the state ensure the safety of their residents, but it's important that every Californian who is able do the simple, but important things that can make the difference between life and death," said California Emergency Management Agency (Cal EMA Secretary Mark Ghilarducci.
Key actions residents and visitors of California can take to reduce their risk of heat-related death and injury include:
Monitoring local media for the latest weather forecasts and information from local officials
Learning the signs of heat-related illness
Staying out of the sun
Drink plenty of liquids and reducing physical activity
Using air conditioning and fans or getting to a location that is air conditioned such as the mall, the theater or a designated cooling center
Using cool compresses, misting and baths to lower body temperatures
Wearing lightweight, loose fitting clothing.
Taking shelter and breaks periodically, as well as staying hydrated, if you must work outside.
The recommendations from state emergency and health officials come as state agencies implement the "Heat Alert" phase of the state's Contingency Plan for Excessive Heat Emergencies. 
Actions taken by Cal EMA and other state agencies as part of the implementation of "Heat Alert" phase activities include:
Coordination calls among Cal EMA, key state agencies and the potentially affected operational areas and regions with weather and power updates.
Coordination by Cal EMA with the California Independent System Operator and the California Utilities Emergency Association for power updates.
Dissemination of information related to the warming trend to key partners
Coordination by Cal EMA of information requirements and needs with the Access and Functional Needs Community, the Department of Developmental Services, the Department of Aging and Department of Rehabilitation
Dissemination of safety tips and resource information to the public via the Heat Portal of the Cal EMA website
Coordination with state and regional public information officers by Cal EMA and outreach by Cal EMA to media partners
Coordination by CDPH regarding the excessive heat event with local public health and other officials.
Additional information on preparing for heat-related emergencies is available at: