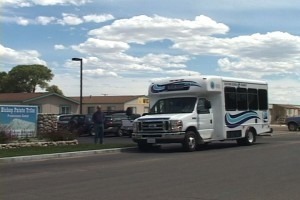 On July 1, Eastern Sierra Transit bus drivers will no longer make change for passengers. Eastern Sierra Transit officials say the new policy is a necessary matter of efficiency. Others see it as a hardship for passengers.
John Helm, Director of Eastern Sierra Transit Authority, said that at their May meeting, the Transit Board addressed staff recommendations for exact-change fare. He said ESTA had noticed in the last year or so that passengers had begun paying in "extremely large bills – forcing drivers to stop and get change." He said it appeared some may have been forcing a way to a free ride.  Helm also said that drivers were issued $200 to $300 in change, which required additional accounting.  The exact change method, he said, will be more efficient.
Helm said change will be made with tickets for future use. He said the tickets will be valued at $1, 25 cents and 10 cents. He said, "It is very rare for a transit organization to take other than exact change." This policy goes into effect July 1st for all ESTA routes.
Selma Calnan of Bishop, who is a retired member of the state mandated Social Service Transit Advisory Council of Inyo-Mono, contacted Sierra Wave to say there was no advance notice of the policy which was passed unanimously by the board of the Eastern Sierra Transit Authority at their May meeting that was held in Mammoth Lakes. Calnan said, "With no advance notice there was not time for feed-back at their meeting and only two residents attended."
Calnan said, "Such a draconian and stealthily enacted policy will be a hardship for the elderly, the handicapped, low income passengers and the drivers who have already been required to cope with a problem-riddled new dispatch system."
Helm said that for change of $10 or more, the passenger can send in their ticket to be reimbursed with cash. He said ESTA may also set up the possibility to donate change to needy organizations for their transit.