Eva-Brigitte Buntic, age 94, resident of Sterling Hights, Bishop, CA , born in Germany on May 16, 1921, passed away peaceably surrounded by friends and family on December 27, 2015 in Inyo Hospital. Prior to Bishop she resided in Mammoth Lakes after moving from Illinois with her husband, Robert, in 1976.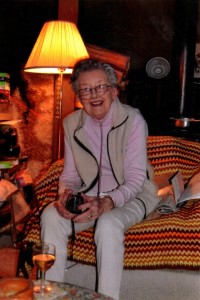 Survivors include daughter, Birgid Buntic, of Raleigh, NC, son Robert Buntic and daughter-in-law Karen, of Mt Prospect, Il. She was preceded in death by husband Robert Buntic and sister Sigrid Rutstein of Deerfield, Il.
She enjoyed the friends she made working many years with the US Forest Service. She was commended for excellence numerous times by the USFS. It was an important part of her life.
The family would like to especially thank the Schneider family, with special thanks to her friend Barbara (BJ) Schneider, for their loving friendship and support of Eva through the years. Eva made many friends in the area as well as maintaining relationships with those in her birth country. She will be missed by many.
Memorial services are not planned. Since Eva had a special place in her heart for animals of all sorts (especially dogs!) the family requests that memorial donations be sent to ICare (INYO County Animal Resources and Education), POB 76, Bishop, CA 93515
We love you, Mom.