Lots of baby birds have started to hatch, and in recent days infant Great Horn Owls needed help or all out rescues. Eastern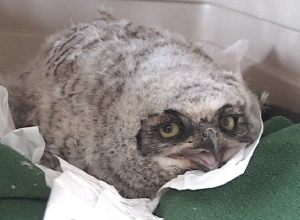 Sierra Wildlife Care responded.
Seems some of the little owls were attacked by ants in their nest. ESWC helped a number of baby owls. Volunteers hope to soon release three of the infant owls back to their nest. The others may grow up at the ESWC facility near Keough's. They will be released later.
Cindy Kamler, director of ESWC said the first call came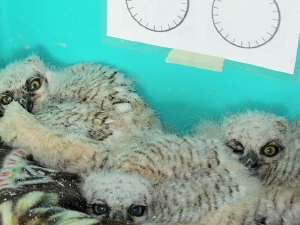 from a CDF crew at work down by the Owens River. A baby owl had fallen out of a nest. Kamler said the baby had a lot of ants on him. She noticed a huge infestation of ants at the base of the tree, heading up to the owl nest. "I was afraid the ants were invading the nest and the baby jumped out too early." A volunteer, Dimitri Barton, is a tree trimmer. Kamler said he went up a difficult climb, constantly attacked by ants. He reached into the nest and rescued two more babies.
After that, Kamler received a call from the Birch Creek area near Big Pine. An owl had fallen out of a nest. That baby bird also ended up at ESWC for now.