Press release
Recently, an injured adult Bald Eagle was rescued and given care by Eastern Sierra Wildlife Care. ESWC volunteers played a part in this bird's story. Close to 450 animals per year pass through our doors at the Center.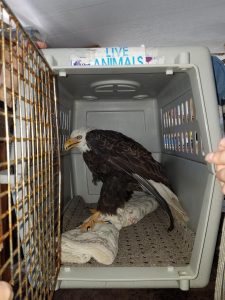 While trained staff provides critical animal care, volunteers provide help in just about every case. "We couldn't do it without our volunteer help," states Kelly Bahr, Assistant Director of the Eastern Sierra's only wildlife rehab facility. Rescue, transport, and animal care volunteers receive special training in handling wildlife. Volunteers prepare diets, feed, clean cages, wash dishes, build or repair cages. "They also help with education and outreach programs, fundraising and more."
On March 1st, late in the afternoon, Director Cindy Kamler answered the phone at ESWC. The caller, Gaby, reported: "There's a Bald Eagle up here in Coleville; it can hop around but it can't fly." Kamler responded: "Can you get it contained in a large box or carrier? You will need gloves and a heavy blanket or towel. If not, please keep an eye on it while I call some nearby volunteers for help."
She pulled out a list of volunteers ranging from Death Valley and Lone Pine to Bridgeport and Walker and urgently began a series of phone calls. "With long-distance emergencies," Kamler explained, "we often end up with a "pony express." One person takes the rescued animal part-way, the next does the same, until the injured bird or mammal arrives at the Center."
In Coleville, Carla and Steve rescued the eagle, put him in a box, and volunteered to drive him to Lee Vining. Cindy called the Mono Lake Committee and reached Nora, who had driven an injured bird to ESWC not long before. Nora agreed to drive the Bald Eagle from Lee Vining to Bishop where Kamler and Bahr took over, getting the bird to Keough's Hot Springs where he was placed in a critical care cage to rest overnight.
Next morning, Kamler and staff members Kelly Tallon, Danielle Hensil, and Justin Stravalle examined the eagle, finding a possibly fractured wrist. Unable to hunt, the large raptor was on the edge of starvation. He was given sub-cutaneous fluids and the injured wrist stabilized with a Figure 8 bandage. Despite his weakened condition, this mature eagle was a fierce presence.
Over the next few days, although stressed by confinement, the magnificent bird of prey consumed dozens of trout from the Fish Springs Hatchery, regaining strength. Bahr continued: "We contacted Kim Stroud of the Ojai Raptor Center; she agreed to take the eagle for further medical care. Their last adult Bald Eagle patient was ten years ago! Transport from ESWC to Ojai was provided by an ORC volunteer who was skiing in Mammoth." The report from Ojai: x-rays show that the fractured wrist is partly healed. Conditioning and physical therapy will be needed if he is to regain flight. "It will be a long time before we know whether he will fly well enough to be released," cautioned AD Bahr.
"We need volunteers. Volunteers have played pivotal roles in hundreds of cases throughout the years. Each year, ESWC offers a free orientation for persons interested in the possibility of volunteering with us, " said Kamler. Bahr added: "I attended an orientation 6 years ago and discovered that I loved working with the animals. Don't miss our upcoming orientation."
Free Volunteer Orientation, Sunday, March 19th, 1-3 PM, Imagination Lab, 621 W. Line Street, #204, Bishop. Call 760-872-1487 to reserve a place.