Parents of students in the Eastern Sierra Unified School District have launched a wave of emails to object to the latest developments among district officials and board members. Members of the public say they once more feel left out of decsion-making and the future plans of the district.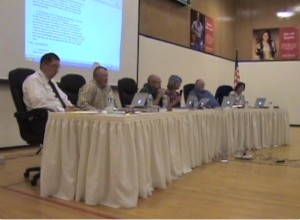 One parent, Kellie Annett said that officials recently "discovered $280,000 within their budget." Skeptical of this so-called discovery, Annett and other parents are angry that the school board will hold an emergency meeting tonight to vote on how to spend the money, with virtually no public input.
We were unable to reach any board member or superintendent Don Clark before news time. Parents point out that the amount of money found in the budget could keep Eastern Sierra Academy open, but there has been no discussion.
Instead, the meeting agenda shows the money going for a music teacher, mechanic, groundskeeper, special projects manager and a new executive secretary for Don Clark. Parents said that the secretary would make some $80,000. Again, we have tried to discuss this with officials, who were not available.
Another sore point from parents – they say that Superintendent Clark took their community plan for the schools and completely changed it, representing that Principle Yost had come up with it. Some parents say this is a complete misrepresentation.
Kellie Annett said, "The plan has been changed drastically and reformatted so that our vision is non-existent and many of our ideas are eliminated, altered, unfunded, and/or only allowed based on the superintendent's choice, giving him veto power."
Feeling left out once more, parents put out a call to attend tonight's meeting at 7pm at the district office in Bridgeport.