Cutbacks in state and federal money has meant a $166,000 shortfall in the budget of Eastern Sierra Transit Authority.  ESTA Director John Helm said that public workshops will ask for public input on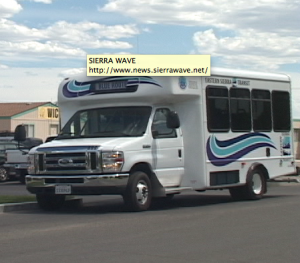 an increase in fees or reduction of service or both to help balance the budget.
Helm said ESTA wants to know what scenario the public feels is least detrimental.  Members of the public can offer their own ideas of how to keep ESTA solvent.  The first workshop happens today, starting at 10:30 at Statham Hall in Lone Pine.
Thursday, July 7th, an ESTA workshop will take place in Walker at the Antelope Valley Senor Center.  Next Monday, July 11, a workshop will happen at Bishop City Hall Council
chambers at noon.
Those interested in transit service and how this budget shortfall will be handled can also send comments by mail, email or phone.  Comments need to be in by July 15th.  You can email to [email protected], call 760-872-1901, extension 11 or mail to ESTA, P.O. Box 1357, Bishop, CA 93515.